I made a little list over Xmas as to how to improve my blog, and one item on the list was to start a weekly feature. Something along the things that inspire me or possibly help out my fellow handmade sellers by featuring the best handmade items of the week. Not sure on the actual feature name, ill have a think on that one!
But how best to kick start my new feature by featuring something that i just had to have!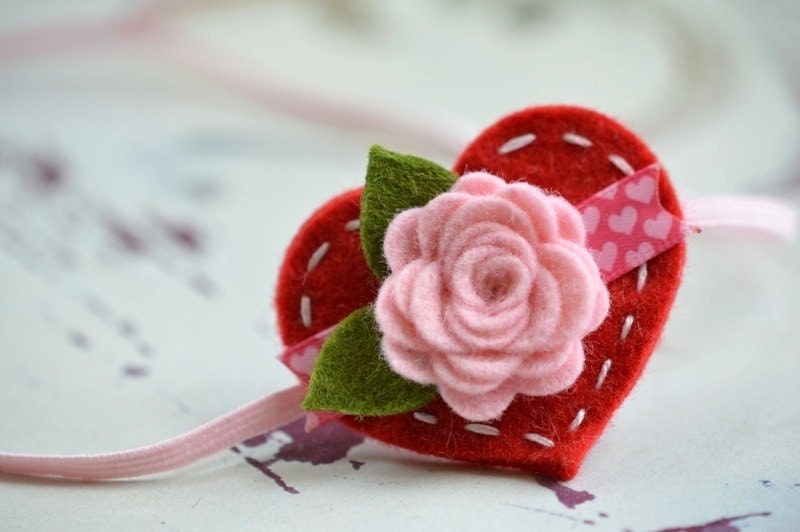 Being a Valentines baby, (Yes it is cute but a pain in the butt to go out for a birthday meal with all those loved up couples taking up all the tables!)
I just had to have this. Not many things i see on
www.etsy.com
have this effect on me, but as it is coming up to valentines / birthday and this is a 10 on the cuteness scale, i went and bought one. This particular product was features on the infamous Etsy homepage, which is an amazing achievement by the way! I clicked the link to find out the item had sold out, and i couldn't find anymore on the shop page. To my dismay i emailed the shop owner, and got a lovely response.
Lesley, the owner of
Bloomz
, specialises in gorgeous handmade felt flower headbands and hair clips, and was happy to make me a custom order (these headbands are actually for little girls! I know my head is small but not that small!)
So i ordered one, and fingers crossed it will be here before valentines so i can wear it on my birthday!
Since having my hair cut short-er, i find myself wearing a lot more headbands, so this will look great :)
Well anyway, i will be back next week with a new handmade item - i've just got to think of a better feature name first!
Grace Face xoxo